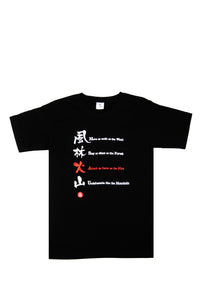 Hakone Garden
Adult Size Wind, Forest, Fire, Mountain Black T-shirts
Regular price
$23.50
$0.00
Unit price
per
Black t-shirts come with striking Japanese characters. It's your choice as to what you wish to express. All are 100% cotton, washable and come in adult sizes S – XL.
"Wind, Forest, Fire, Mountain" are words taken from Sun Tzu's sentence, "as swift as wind, as gentle as forest, as fierce as fire, as unshakable as mountain." The four elements come from a popularized version of the battle standard of daimyo, Takeda Shingen. Here's your chance to pick up the banner!
For new members, it requires 2-3 days to update your membership. If you are making a purchase now, your discount will apply from your next order.
---